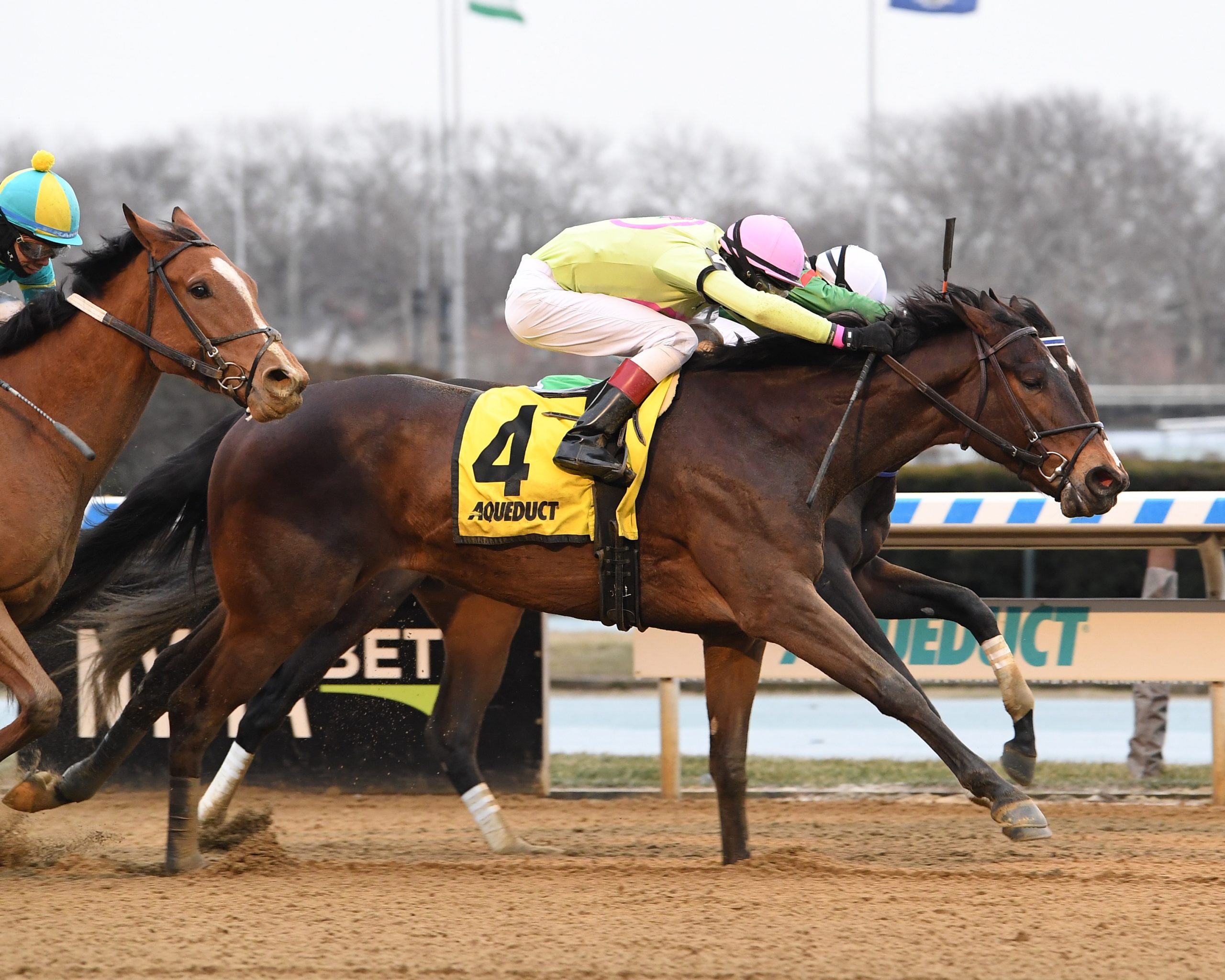 Battle Bling returns in a jam-packed Heavenly Prize Invitational
OZONE PARK, NY – Michael Dubb's Battle Bling, the latest ladies winner from nine stadia, will look to double the stakes scores against four other stakes winners in Sunday's $125,000 Heavenly Prize Invitational, a one-mile one-lap for older fillies and mares at Aqueduct Racetrack.
Trained by Rob Atras and ridden perfectly by Trevor McCarthy during Ladies at the Big A on January 16, Battle Bling rallied from fifth place to win by a neckline over Miss Leslie and third place Kiss the Girl, who left this effort to win the Geisha. and Nellie Morse at Laurel Park.
Atras fired Battle Bling, a dark bay girl from Vancouver, for $62,500 on a runner-up effort against Heavenly Prize rival Maiden Beauty in an optional one-mile claim on Dec. 19 at the Big A.
"I'm not really concerned about the reduction. I think she's a versatile, very competitive filly with a lot of ability," said Atras. "She made a big move in the corner of the last race and it looked like she was going to be a little behind, but she held on in the last sixteenth and prevailed. I think she can run as well if not better over a mile.
The consistent filly, who owns a 13-3-4-1 record, worked five-eights in 1:02.73 on Feb. 27 at the Belmont dirt practice track.
Atras said he would entrust McCarthy with designing a winning trip.
"She has a little tactical speed which I think will allow Trevor to put her where she needs to be in the race based on the pace," Atras said. "In these kinds of races there is no room for error and for a rider knowing where to position a horse in a race is really important."
Battle Bling will start from station 3.
Hidden Brook Farm, Joseph McMahon and Anne McMahon's Bank Sting claims a 5-for-6 record at the Big A, including an 8 1/4 score in the NYSSS Staten Island on Dec. 5 and a neck win in the La Verdad came out for the last time on January 2.
Coached by John Terranova, the 5-year-old, New York-raised daughter of central banker will make his first start against an open company. The talented bay, who won the Critical Eye in May at Belmont, worked five-eights in 1:02.21 on Feb. 27 at the Belmont dirt practice track.
Dylan Davis, leader of the Big A winter competition, retains the post 2 mount.
Maiden Beauty of John Grossi's Racing Corp. enters a two-game winning streak at the Big A, kicked off Dec. 19 in a key optional mile beating Battle Bling just 11 days before taking the Bay Ridge nine furlongs in wireline fashion on a sloppy, sealed main lane .
Trained by Robert Falcone, Jr., the 6-year-old Revolutionary mare, bred in New York, boasts a 14-5-3-1 record at Aqueduct.
" She's very well. She hasn't missed a beat since her last run," said Falcone, Jr. "We wanted to give her some time because she ran so fast. She ran two tough races in a row, so we wanted her to regroup. She hasn't missed a meal or had a day off since then. She is going in the right direction. »
Kendrick Carmouche retains the post 4 mount.
Truth Hurts, formed and co-owned by Chad Summers with J Stables, had a strong 2021 campaign, posting a 9-2-1-1 record for purse winnings of $195,100, led by stake scores at Belmont in the Pumpkin Pie and off- the Perfect Sting turf.
Tonalist's 5-year-old daughter tested deeper waters over the summer in Saratoga, finishing fourth in the Grade 2 Miss Honorable Handicap and sixth in the Grade 1 Ballerina Handicap. She earned the grade of black type with a third place finish at Grade 3 Go for Wand Handicap in December at the Big A.
Bred in Ontario by William D. Graham, Truth Hurts was last seen finishing fourth in Mrs. Claus on December 28 in Parx. She clocked a half-mile in 50.55 on February 17 at the Belmont dirt training track.
Summers said Saturday's test was part of a longer-term goal to contest the Grade 3, $150,000 Distaff Handicap, a seven furlong sprint for fillies and older mares on April 9 at the Big A. .
"We gave her a month off after the Mrs. Claus in December and she only had a few jobs," Summers said. "She won't be 100% prepared for this race, but it will be a stepping stone for the cattail to finish seven-eighth on Wood Memorial Day. We will consider this as our main focus for the spring. She won the Perfect Sting by running a mile, so I think the distance [in the Heavenly Prize] is not a problem for her.
Luis Rodriguez Castro will guide Truth Hurts from position 5.
Rounding out the field is Sharp Starr, who won the 2020 Grade 3 Go for Wand at Big A for trainer Horacio De Paz and owner-breeder Barry Schwartz.
Munnings' 5-year-old New York-raised daughter was an impressive Empire Distaff winner in October on a sloppy, sealed main track at Belmont. She followed that up with a distant fourth in her Go for Wand title defense on Dec. 4 at the Big A before an even final third in the Bay Ridge.
Manny Franco has the call from inside.
The Heavenly Prize is scheduled as Race 7 on Sunday's eight-race card. The first post is at 1:20 p.m. EST.
America's Day at the Races will feature daily coverage and analysis of winter competition at Aqueduct Racetrack on the FOX Sports Networks. For the full broadcast schedule, visit https://www.nyra.com/aqueduct/racing/tv-schedule.
NYRA Bets is the official betting platform of Aqueduct Racetrack and the best way to bet on all races in the Winter Meet. Available to horse players nationwide, the NYRA Bets app is available for download today on iOS and Android at www.NYRABets.com
NYRA Press Office
Battle Bling under Trevor McCarthy beat Miss Leslie to the wire by a Black Type winning neck in the Ladies Stakes on January 16, 2022, at Aqueduct. (Susie Raiser)