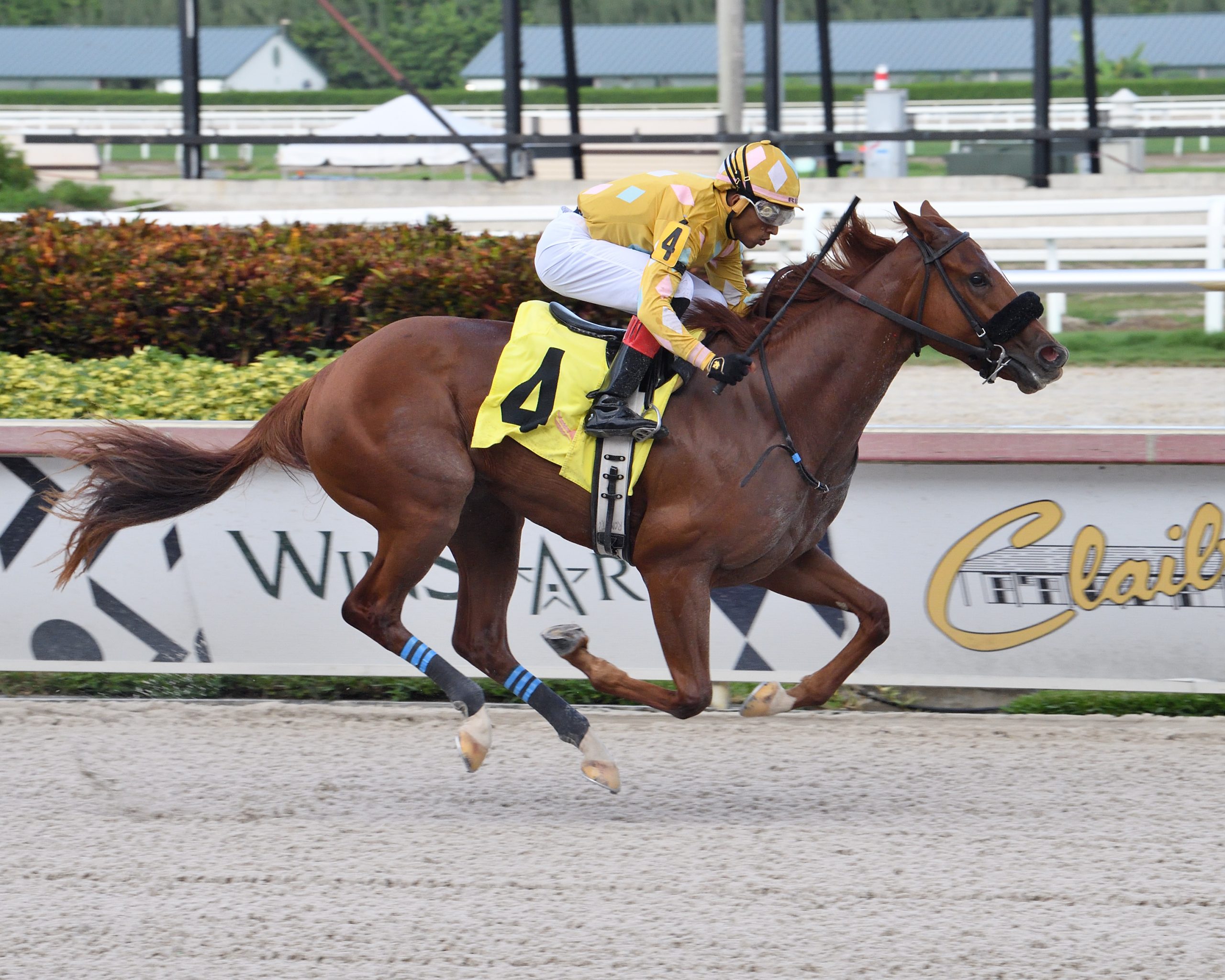 Diamond Wow back on the grass for G3 Herecomesthebride
Multi-stakes winner Red Danger tops $125,000 in Palm Beach

HALLANDALE BEACH, Florida – With a comeback race under his belt, Diamond 100 Racing Club, Amy Dunne and trainer Patrick Biancone's stakes winner Diamond Wow return to the turf in a 13 outfield for the Herecomesthebride ( G3) of $125,000 from Saturday at Gulfstream Park.
The 35th running of the Herecomesthebride for 3-year-old fillies and the 36th renewal of the $125,000 Palm Beach for 3-year-olds, both running one mile, are among six turf stakes on a successful 13-race program offering nine stakes, eight ranked, worth $1.7 million in scholarships, including the $400,000 Fasig-Tipton (G2) Fountain of Youth for 3-year-olds on the road to the Curlin Derby in Florida (G1) of $1 million on April 2.
The start time for the first race is 12:10 p.m.
Named after the South Florida-based mare who won 12 of 16 starts and six appearances, including the 1977 Bonnie Miss at Gulfstream and the 1978 Columbiana Handicap (G3) at Hialeah, the Herecomesthebride anchors a mega promotion between Gulfstream Park and Santa Anita, which will host 15 stakes, 14 graduates, between them Saturday.
Coast to Coast All Dirt Stakes Pick 5 and Coast to Coast All Turf Stakes Pick 5 bets, multi-race bets with a $1 minimum and a low 12% cashout, will be on the cross betting menu. There will also be a free competition with the chance to win a $5 million jackpot to choose the winners of the 15 stakes that will be run that day on sister tracks 1/ST.
Diamond Wow notched back-to-back wins to open her career at Gulfstream, graduating first last August before stepping off the pace to become a popular Our Dear Peggy off-the-turf winner three weeks later. Biancone took her to Kentucky, stretched her out and put her back on the turf for the 1 1/16 mile Jessamine (G2), where she was beaten by a header after a tough run.
A win would have earned Diamond Wow a free trip to Del Mar for the Breeders' Cup Juvenile Fillies Turf (G1), but Biancone opted instead to give the two-time champion's chestnut daughter Lookin At Lucky a break until she was 3 – old season.
"She's doing really well," he said. "Obviously we missed the Breeders' Cup because she was a little tired at that time of year, but we had planned to prepare her for the spring, step by step, so that she would be ready for the big races in April and May."
Part of that plan was to bring Diamond Wow back at the Feb. 5 Forward Gal by sprinting seven furlongs at Gulfstream, on the same track and the same distance as Our Dear Peggy. She chased eventual winner Girl With a Dream for half a mile before finishing fourth, less than a length behind the stakes winner and fellow Herecomesthebride Last Leaf.
"I wanted to run her short the first time because I knew she would be a little too fresh, and she showed it exactly. But she had a good run, a good warm-up run, and now she can do two corners with no problem," said Biancone. "We expect her to improve in her first race. She has worked very well and we can't wait to see her speak.
Regular driver Romero Maragah will be aboard Station 3.
Teneri Farm and J Stables' Opalina, also based in South Florida, also went to the Jessamine after a 12-length first win at Gulfstream but lost any chance after a rocky start but rallied to make a late race and be fifth, beaten 1 ½ length. She came back to run third in the one-mile Ginger Brew on January 1 and broke through with a three-quarter-length triumph in the 1 1/16-mile Sweetest Chant (G3) on February 5, both on her trail home.
The Championship Meet leader, Luis Saez, will re-board from stand 8.
Hall of Fame trainer Todd Pletcher and jockey Irad Ortiz Jr. won Herecomesthebride last year with Con Lima, and they will team up again on Saturday with Michael Tabor's horse Beside Herself. Champion Uncle Mo's bay daughter finished third in a pair of early special-weights last fall and winter before breaking through with a 3 ¼ length win over 1 1/16 miles on Gulfstream turf on January 30.
Pletcher is confident that Beside Herself, having shown the ability to win and run well both in the lead and out, will find themselves in a comfortable position out of post 5.
"I think it will depend on how the race goes. I think it can be effective either way," Pletcher said. "She just got her first win, but I like the spacing and want to give her a try in a stakes race."
Stakes winners Howdyoumakeurmoney, Last Leaf, Lemieux, Lia Marina and Mischievous Kiss are also listed, along with recent winners Dia de Sol and Spendarella. Rounding out the field are Bali Del Sol, Soul of an Angel, and Dolce Zel, the latter listed as the only one also eligible.
Multi-stakes winner Red Danger tops $125,000 in Palm Beach
Winner of multiple Silverton Hill Stakes Red Peril will take on eight rivals, including Year 3 winner Coinage and Credibility, his Year 2 ranked stablemate from Hall of Fame trainer Mark Casse's barn, in Saturday's $125,000 Palm Beach for 3-year-old children on grass.
Red Danger won the 6 ½-furlong Juvenile Sprint at Kentucky Downs last fall and the 7 ½-furlong Pulpit on Dec. 3 at Gulfstream as a 2-year-old under trainer Brian Lynch. The son of 2013 Fountain of Youth (G2), Florida Derby (G1) and Kentucky Derby (G1) winner Orb kicked off his second campaign by finishing fifth by 2¼ lengths in the Kitten's Joy (G3 ) by 1 1/16 miles on February 2. 5 at Gulfstream.
St. Elias Stable and Repole Stable, named Triple Crown, Royal Spirit, finished second to Kitten's Joy, taking a lead in the stretch before being beaten in the neck by Hall of Famer Todd Pletcher trained stable mate Grand Sonata . Winless in three starts as a 2-year-old, including a pair of stakes, Royal Spirit was a first professional winner at special weight by sprinting 7 ½ furlongs on January 2 at Gulfstream.
Chester and Mary Broman and DJ Stable's Coinage started his career on dirt against the New York Horses, but managed to move to grass and try open business in the With Anticipation (G3) at Saratoga, going the distance of 1 1 /16 mile to win by two lengths. He has been beaten by Royal Spirit in two of his last three starts, the one-mile Nownownow last fall at Monmouth Park and the Kitten's Joy, finishing third each time.
DJ Stable also bred Harry Rosenblum's Credibility, by 2016 Florida Derby-Kentucky Derby winner Nyquist. Credibility has had success at Gulfstream, breaking his maiden on his debut last August by running a mile on the turf. Third in the Bourbon (G2) before finishing the Breeders' Cup Juvenile Turf (G1) board, he was a brave winner of an optional one-mile, 70-yard protest fee on January 22 that was removed from grass at Gulfstream's all-weather Tapeta.
Both Main Event and Moms Moon are coming off of their first special weight victories at Gulfstream. Harrell Ventures' Main Event graduated vanguard by covering 1 1/16 miles on January 30 in its grass-court debut, while Mill Ridge Farm's Moms Moon went from the gate to the wire to win by a neck in a one mile trip on good ground on January 15th.
Also entered are C My Meister, third in Colonial Downs' Kitten's Joy and Gulfstream's Juvenile last year; Bueno Bueno, a winner on grass and dirt who ran third in an optional contender sprinting 5 ½ furlongs on the Gulfstream Tapeta on February 3; and young Sosua Summer.
Gulfstream Park Press Release
Photo: Diamond Wow (Lauren King Photo)