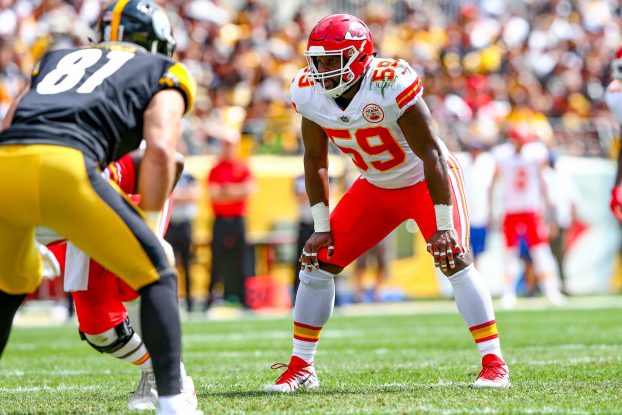 Does Dave Ziegler add depth at linebacker?
Everyone knows the Las Vegas Raiders are thin on the offensive line. However, general manager Dave Ziegler is apparently looking to add depth to the linebacker corps.
As it stands, the Raiders have Denzel Perryman and Divine Deablo as starting linebackers. Perryman has just completed a season that turned out to be a revelation for the Silver and Black. He arrives in 2022 on the heels of a Pro Bowl nod and one of his best seasons statistically. For the most part, Deablo has flown under the radar this offseason. At the same time, he impressed deeply at camp by all accounts. It looks like the coaching staff thinks he's ready for a major role.
Nonetheless, Ziegler welcomed the veteran Reggie Ragland for a visit today. Also of note, the New York Giants released Blake Martinez. Both linebackers have ties to new defensive coordinator Patrick Graham.
Should Dave Ziegler take a flyer on Reggie Ragland or Blake Martinez?
While no official word has been spoken on either veteran signing with the Raiders, things could change at any time. Either signing would likely put them on the practice squad for now.
Ragland, for his part, played under Graham last season with the Giants. In line with what these Raiders build, Ragland is versatile. He knows Graham's pattern because he can keep it in the middle or, if need be, he can play outside. He started nine games for the Giants and racked up 38 solo tackles and two tackles for a loss. However, he is a handicap in coverage, which makes the interest in him questionable. At the same time, Ziegler knows what his roster needs more than this armchair GM, so there you have it.
Like Ragland, Martinez has a familiarity with Graham that goes for him. He started three games last year alongside Ragland. What is curious about Martinez is that he too is a handicap in pass defense, so why would the Raiders add one or the other when the O line and, arguably, the cornerback pool is thin? It will be interesting to see if either lands on the Raiders.
*Top photo: Kansas City Chiefs
Related
Join the Ramble Mailing List