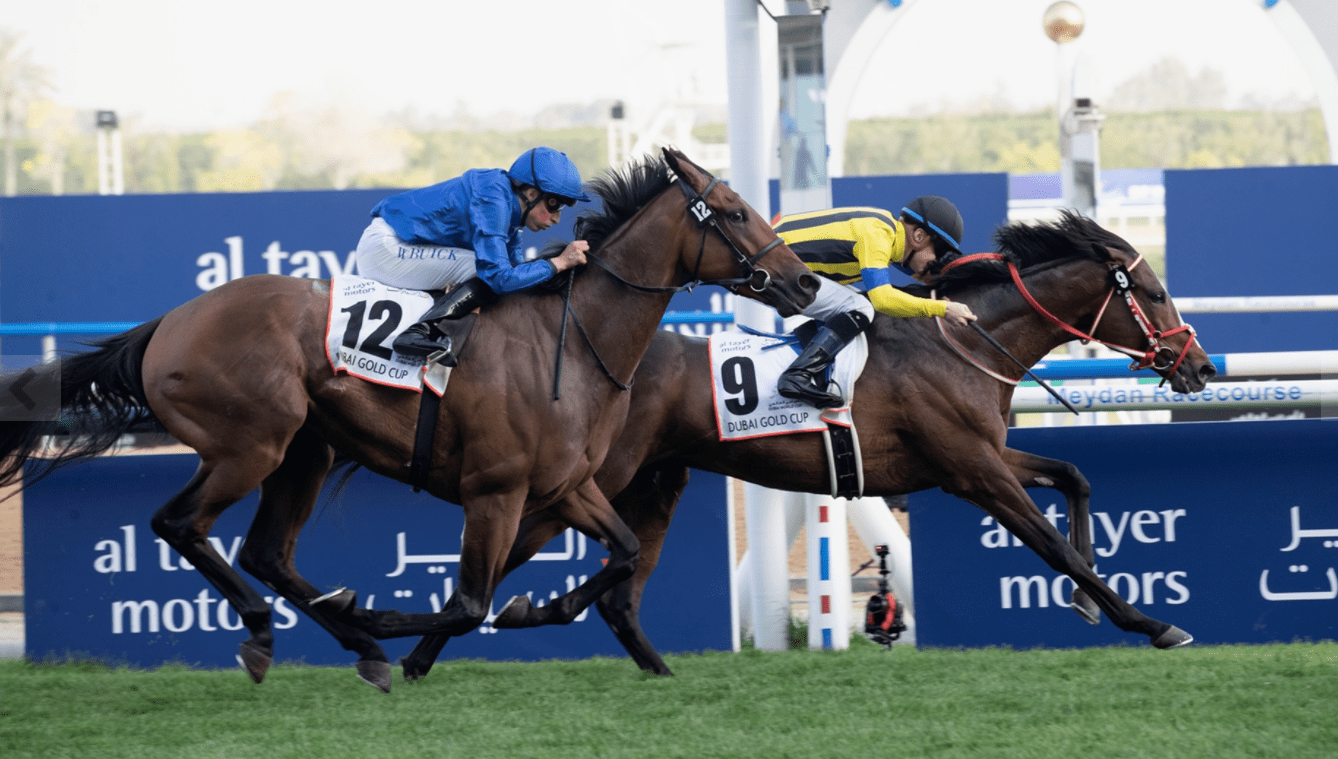 Double for Yahagi as Stay Foolish takes gold
$1,000,000 Group 2 Dubai Gold Cup sponsored by Al Tayer Motors
stay stupid capped a remarkable 35 minutes for Japan coach Yoshito Yahagi by completing a brace on the card as he rose in the final strides to deny the fantasized fort Manobo.
After a strong pace and the early drama of Emperor Of The Sun running out as it approached the backstretch, the race quickly closed. It seemed to everyone that the Charlie Appleby-trained Manobo would seal a second win in the race for their trainer by resuming the run at the two furlong marker, but Stay Foolish continued to box on the rail under Christophe Lemaire.
And the Far East raider would not have denied himself, snatching victory at the finish line to seal a first victory in the race for Japan – and the second winner of the evening for the nation. Filling in the spots was the local runner Al Madhar for the Musabbeh Al Mheiri team.
Yahagi said: "After Saudi Arabia he enjoyed the atmosphere in Dubai, he was excellent, very comfortable here. He likes Dubai I think.
"I gave no order to the jockey. Christophe Lemaire knows what to do. I don't know what we'll do with him next. We will be going back to Japan but my dream would be to go to Royal Ascot for the Gold Cup but I would have to speak with the owner first.
Christophe Lemaire, winning jockey, said: "He didn't jump as fast as in Saudi Arabia but he traveled well. I wasn't afraid to find a gap on the straight because the horse in front of me was riding well.
"When I saw Manobo coming powerfully to my side, I thought we were done. Stay Foolish doesn't have a great turn of foot, but when horse Godolphin struggled near the finish, my horse gained a lot of confidence and moved forward again, obviously Manobo was the one to beat and he also had a 2kg advantage.
On his outstanding run of success in the Middle East, he added: "I wouldn't say I'm used to it because every race is important and that's in the past. You have to look to the future and I'm focused on my next race.
4th – Alignak, jockey Saffie Osborne said: "I had the worst trip possible. They went so slowly. From stall two, I kept getting locked in. He ran very well to finish where he is and if they had done some kind of canter I think it would have been closer.
5th – Passion And Glory, jockey Patrick Cosgrave said: "He ran well.
6th – Volcanic Sky, jockey Louis Steward said: "He had a great race. He had a nice, sweet lead there and nobody really harassed him. He picked up well on the straight, he just lacked a bit of class at the end.
7th – Veloce Oro, jockey Mirco Demuro said: "He ran well, I thought he could win but in the end he just didn't have the stamina to stay."
8th – Castlebar, jockey Bernardo Pinheiro said: "I didn't stay."
9th – Rodrigo Diaz, jockey Jamie Spencer says: "Very slow pace, I had a tough draw and tried to get over it at the start but the pace got out of the race at the winning post and it was going to be tough after that ."
10th – East Asia, jockey Richard Mullen said: "He traveled well and he was nice and relaxed. It was a messy race, we were tough early on then they loosened up at the back. A few were doing moves and they just got into a rhythm where he wasn't too comfortable, he was just starting to make fun of me a bit. I just felt the last few stages, a mile and six probably sees him out and I think he has enough pace even for a mile and a half now.
11th – Mirinaque, jockey Francisco Leandro Goncalves said: "Not good."
12 – Baron Samedi, jockey James Doyle said: "I got behind Manobo and it was the worst place to be, I just couldn't build at all.
Dubai Racing Club press release
Photo: Stay Foolish (Photo DRC)