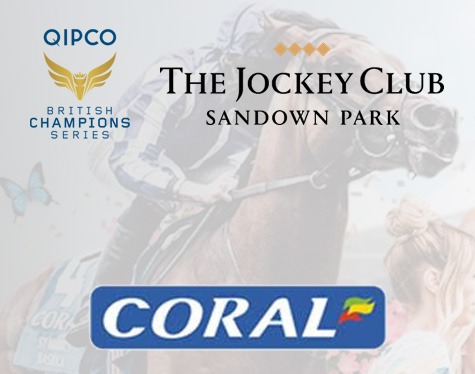 Vadeni becomes the first French-bred horse in 62 years to win the Coral-Eclipse and the first British winner for the Aga Khan since winning the Harzand Derby in 2016
By Graham Clark and Ben Cox
First Class French Raider Vadeni became the first horse trained in France to win the Coral-Eclipse for 62 years in an exciting renewal of the Group One competition at Sandown Park this afternoon.
It was also a first British winner for the Aga Khan since Harzand won the Derby at Epsom Downs in 2016 and the first time the current Aga Khan has won the Coral-Eclipse.
Churchill's son, who is trained by Jean Claude Rouget, was only completed at a cost of £50,000 for Monday's race following his stunning five-length victory in the Qatar Prix du Jockey Club (Derby French) in Chantilly. last month.
The connections were richly rewarded as jockey Christophe Soumillon perfectly offered the 11-4 chance to win by a neckline of Mishriff (7-1) in seconds, Native Trail (3-1) who was a header further in third and Lord of the North (33-1) who was half a length behind in fourth. Favorite Bay Bridge (9-4) and Alenquer (15-2) were fifth and sixth respectively.
With just one furrow to go, only two lengths separated the six competitors in the 126th edition of the race, sponsored by Coral for the 47th consecutive year, making it the longest partnership of any race group in the world.
Until now, the Coral-Eclipse had been one of the very few major breeds to have escaped Vadeni's owner-breeder, HH Aga Khan IV, although his grandfather, HH Aga Khan III, had succeeded three times with Rustom Pasha (1930), Migoli (1947) and Tulyar (1952), while his father Prince Aly Khan owned the 1959 winner Saint Crespin.
The current Aga Khan had come closest to Coral-Eclipse success with Giant's Causeway finalist Kalanisi in 2000.
Vadeni becomes the eighth Coral-Eclipse winner trained in France and the first since Javelot – which was trained by Percy Carter – in 1960.
Afterwards, winning trainer Jean Claude Rouget said: "He was very relaxed in the first part of the race. I was a bit anxious at the start of the straight because he didn't look very good (placed), but after a change of foot he came easily.
"Christophe (Soumillon, jockey) said he had made a bad step about 80 meters from the post… so that cut his action. I thought at that time that he could be second but with his courage he became the winner. It was very important for him to win this race for his career as a stallion at home.
"If I decide to complete a horse like that it's my basic instinct so I was confident. I have 43 years of leg training so I know it's always hard to win a maiden and to win the Eclipse, for me it was a real challenge. To win the Irish champion with Almanzour, we were the same. I hope that he will win the other race (Irish champion).
"Almanzour had more physicality (presence). They are two champions but they are a little different. The change of foot on this one is terribly good and what we saw in the Prix du Jockey Club. The next will be the champion of Ireland.
"It's a big event today – it's a bit like when I won the Champion Stakes with Literato (2007) and afterwards when I won at Ascot, the Coronation Stakes in the same colors with Ervedya, when I won both Champion Stakes (British and Irish) with Almanzour. It's a great moment.
"My career started very slowly with a few jumpers and bad flat horses so it's a long story. I work for the horse and his career as a stallion later. For my owners it's very important.
"The program for him was quite easy. They usually race in a group two at Deauville to prepare for the Irish Champion Stakes but the Princess (Zahra, daughter of the Aga Khan) said we wouldn't go back (in class) and I agreed. The horse came back from the Prix du Jockey Club in great shape. Four weeks was a good interval, so we decided to complete a week after the Jockey Club.
"I told him (Sumillon) to come as late as possible. The last kilometer he had great courage to win the race. The last 180m of the race was quite tough but he had a good neck at the end. They were good Group 1 horses, Native Trail and Mishriff that he beat.
Added winning jockey Christophe Soumillon: "He didn't jump particularly fast out of the gate and I saw that William (Buick, Native Trail jockey) was going to try to get a good position.
"I didn't want to put any pressure on anyone. Mishriff jumped out the door very slowly. When he came inside I knew he would stay on the rail so I just waited in the last position. The rhythm was very good. We didn't go very fast but for my horse everything was perfect.
"He was really relaxed and he changed legs perfectly everywhere I wanted to and when I came out of the corner the pace started picking up and for about 50 or 100 yards he was a bit off the bridle so I had to give him a chance but when you go to the little post climb of two furlongs he took the bridle from me and changed legs.
"It was the point at which I thought I would wait a bit more or not, but I saw Mishriff inside completely stopped. I say 'I'm not going to wait, I'm going to go through the gap to get my horse going' I just let him go and that's why I maybe came 50 or 100 yards too early to hit the front.
"Everything was fine but maybe 80-100 yards from the line he tripped and he got off balance for a few strides and I just had like a neck in front of William. For the last 50 yards I felt a horse come outside and I was like 'please don't give up, keep going!'
"He was a bit like Almanzour. When Jean Claude brings a champion like this in top form, even on a difficult track, they give you that little bit more than these champions can give you.
"To me it's a pure mile and a quarter horse. At the start of the race he doesn't show too much speed but the way he accelerates and if you look at him physically he really looks like that. We'll see how it goes. Then there's probably the Irish Champion Stakes and from there we'll see. It is sure that it is a really special horse.
Referring to his celebrations after crossing the line and turning towards the horses placed inside, Soumillon added: "I don't know the track and when I crossed the line I didn't see William and James inside and my horse just shifted to take the corner.
"At that time, I wasn't looking ahead of me the last 20 yards. Unfortunately, they had to control their two horses very badly and, as I told the marshals, it was my fault. I shouldn't have celebrated like that in the first place and should have looked within to make sure I didn't get them in trouble at the time.
Asked to reflect on winning a race of this magnitude on a horse trained in France, he added: "It's incredible. I don't know if it's better than winning the French Derby but it's something special because it's so difficult.
"I came here several times maybe 20 years ago to race with a horse that I won the French Guineas with and then after that I also came once for Aidan O'Brien and c was very difficult."
In a separate interview, he told ITV Racing: "It's brilliant. I really trusted him. We knew the pace would be good and I didn't want to do anything stupid with him. I just wanted to get him covered and relaxed and as you can see when I asked him to step up he came so well.
"The thing is when you ride French horses they have a good turn and they know how to run at that kind of pace, but honestly today he did something amazing.
"I knew coming into the straight I would be there, but I didn't think he would be able to accelerate that much.
"It's amazing because my wife was supposed to come but my daughter, she has an exam on Tuesday and she has to learn a lot so they can't come, so my wife said go with the boys and give them good holidays !"
John Gosden, who coaches runner-up Mishriff (7-1) and home fourth Lord North (33-1) with his son Thady, said: "Mishriff had a great run. He just missed the break and the plan was to follow Bay Bridge which meant we ended up inside.
"David (Egan, jockey) did everything right and I'm delighted with the horse. Three-year-olds put on a lot of weight at this time of year, so separating two of this season's star three-year-olds is a great performance.
Mishriff was making his first appearance since his disappointment defending his Saudi Cup crown in Riyadh in February, but Gosden said there were valid reasons for the effort.
He added: "Nothing went well for him in Saudi Arabia this year. The track was different and he came back with his lungs full of dirt.
"I think we will now consider returning to York with him for the Juddmonte International (which the horse won in 2021) and we could also consider the King George (at Ascot) for him.
"Lord North also had a good race. He was just a little rushed but he still ran well.
Charlie Appleby, who coaches third-placed Native Trail, said: "William (Buick, jockey) said he had no excuse. They went steady and they didn't do a crazy canter. He felt he was in the right position and the horse was comfortable throughout the run and trip.
"He said he saw it but took nothing away from the winner and eventual runner-up. It was a strong event and it was always going to be a close finish. I don't think you were ever going to see a horse win by a few lengths.
"I asked the question 'do we go back a mile?' but he said he was comfortable with it and I don't see why we wouldn't stay a mile and a quarter away. This might give him a few more options.
"Anyway, there are no excuses. I asked William the question in that we are coming back for the mile for the Prix Jacques Le Marois but as William said there is no reason not to stay a mile and a quarter as he has it well seen and it's a very simple horse to ride in the race and park it wherever you like.
"We were beaten by a better three-year-old and Mishriff is not a bad older horse. Maybe on a smoother track where they go a better canter, that might suit him. I make no apologies today. He ran a solid race and more importantly he opened up his options where we put him.
The Coral-Eclipse is part of the QIPCO British Champions Series.
Jockey Club press release, Sandown Park