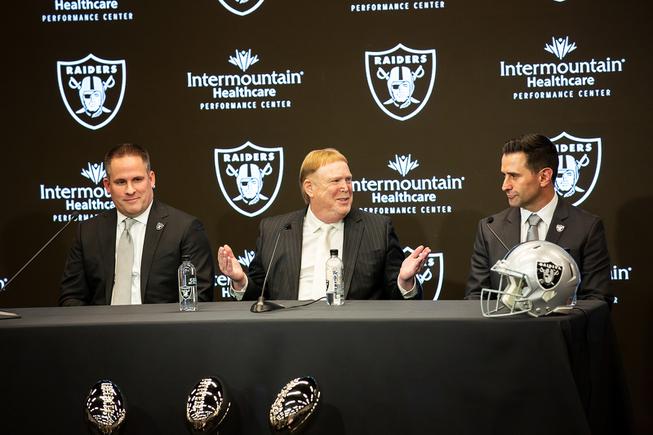 What is the "Raider method?"
There's one question the media is asking plenty of new Las Vegas Raiders head coach Josh McDaniels. That question is what 'path' will he use to lead the Silver and Black into their new era of football? Let's dive into this new Raiders trend.
The new coach has mentioned he won't be bringing the "Patriot Way" to Nevada with him. Throughout the NFL, branch coaches Bill Belichick often failed with their respected teams after leaving New England. Matt Patricia with the Detroit Lions and Josh McDaniels' first round as head coach with the Denver Broncos are just two examples.
Raiders News: Who way uses Josh McDaniels?
In a recent press conference, McDaniels gave more information on how he plans to take the team. "This team has tremendous history and tradition, and the will to win and commitment to excellence that you see at every corner of this building." McDaniels doesn't want to forget history with his new chapter. However, the old "Raider Way" has not been successful so far.
"[As] I said it's been in place for a long time. So we try to live up to that every day that we can," McDaniels said. It should be noted that while McDaniels respects the past, the team has made the playoffs twice since losing the Super Bowl in 2002. The old-school Rebel Raiders may not be the best option for the band.
According Professional Football Reference, the Raiders concluded the 2021 season with 124 penalties and 24 turnovers. McDaniels is looking to head off those mistakes right from training camp.
The "Raider Way"
This new approach has already taken off quickly at Raiders training camp. One example was when Derek Carr and rookie lineman Dylan Parham fumbled a trade during practice. Both players ran a round after the sloppy play. The new "Raider Way" shows the coaching staff's attention to detail and discipline. It seems that McDaniels, for all intents and purposes, wants to keep the lore of the iconic Raiders alive, while bringing in a new sense of responsibility.
*Top photo: Christopher Devargas/Las Vegas Sun
Related
Join the Ramble Mailing List