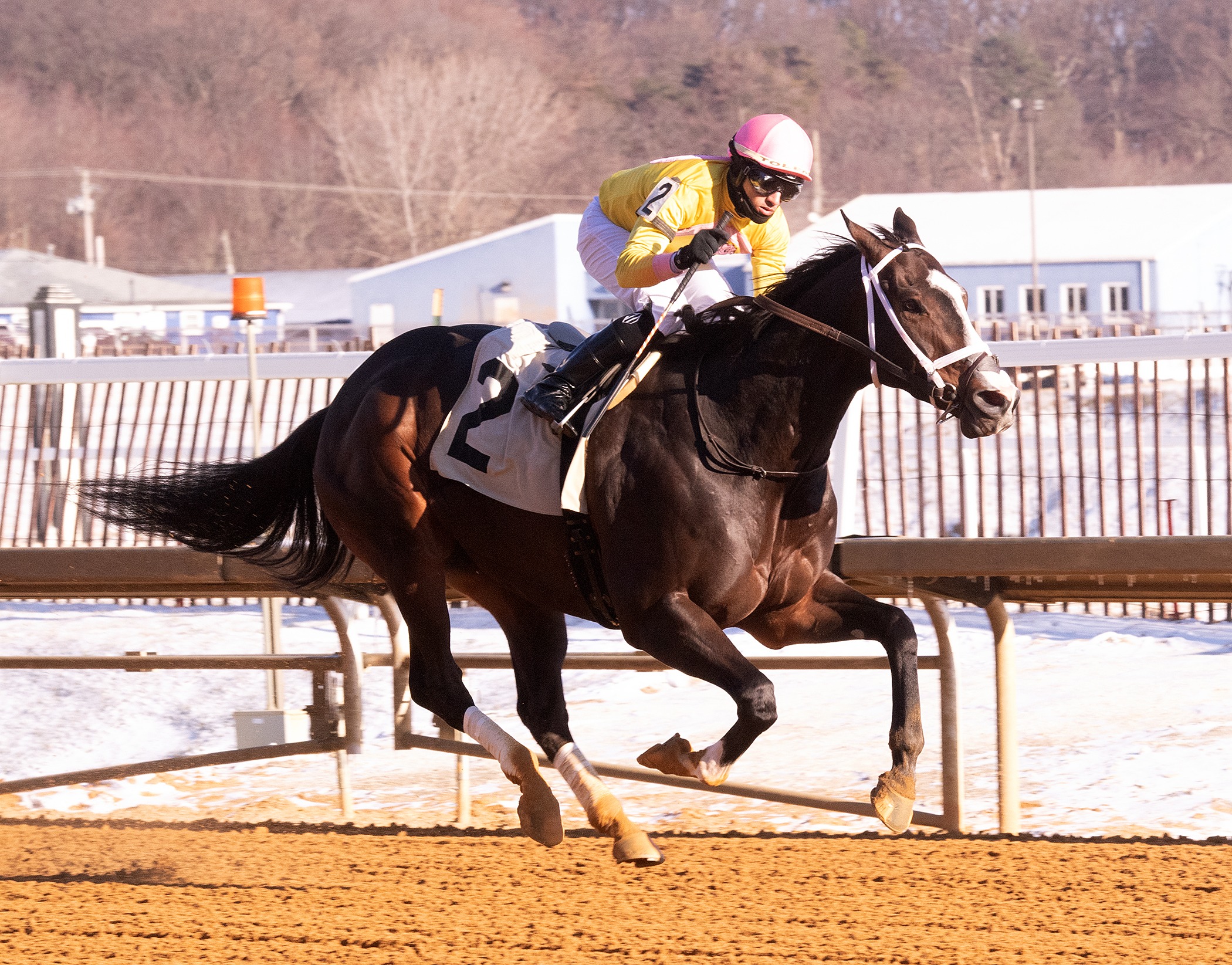 Wondrwherecraigis wins Fire Plug, Witty wins spectacular bid
LAUREL, MD. – wonderwherecraigis wired the $100,000 Fire Plug Stakes for the trainer Brittany Russellconcluding the list of six stakes for Saturday's Laurel Park Winter Carnival.
Jockey Jevian Toledo sent Munnings' 5-year-old gelding into the lead after he abruptly broke away from post 2, winning the six-furlong race for 4-year-olds and over on Laurel's dirt surface and putting Russell's doubts on the track. play to rest.
"Looking at the races today, we over-thought a bit," Russell said, noting the success of the late horses. "At the end of the day, if you have the best horse, you have to go."
Social Assassin's son is owned by Michael Dubb, Elkstone Group LLC, Madaket Stables LLC and Bethlehem Stables LLC.
Russell expressed concern for her star sprinter's feet, pointing out that the cold weather conditions made shoeing difficult. Russell said a December race plan was scrapped in favor of Wondrwherecraigis heading to the Fire Plug.
"I was a nervous wreck all week," Russell said. "My blacksmith was the first phone call I made, I said 'I don't know how you got that horse here today.' It's amazing," Russell said.
Bred by Fleur de Lis Stables, Wondrwherecraigis has won four of his last five starts, with just one loss by disqualification in the Frank J. De Francis Memorial Dash Stakes in September.
The dark bay gelding triumphed over Youngest of Five of Larry Rabold in second place and Shackqueenking of Pocket 3's Racing LLC in third place.
"I've been trying to get him here for a week," Russel said. "The fact that he ran the way he did today, we're just going to enjoy that for now."
what a summer
Victor Carrasco guided Time Limit home first in the What a Summer Stakes, giving the jockey his third win of the day.
The 5-year-old Michael Maker-trained mare sat just off the pace in second throughout the race before joining favorite Princess Kokachin, who hung on to finish third, 1/8 mile to go. Browse.
The chestnut daughter of Three Diamonds Farm, Bustin Stones and Your Time Is Up, took her first victory in the $100,000 race for fillies and mares running six furlongs.
The New York-bred Hibiscus Farms snapped a five-race winless streak with the 1 1/4-length win over Kaylasaurus in second.
The Spectacular Auction
Elizabeth Merryman's Witty took home the Spectacular Bid winner, picking up her third straight win since October.
Jockey Carol Cedeno kept the 3-year-old gray gelding trained by Merryman's son McLane Hendriks just off pace on the backstretch before rocking and passing equal favorite HP Moon near the 3/8 pole.
"When he arrived alongside HP Moon, [Cedeno] was just sitting cold. She has all the faith in the world in him," Hendriks said. "We said there was a lot of rhythm and we were just going to walk away from it."
The spectacular $100,000 auction for 3-year-olds racing through seven stadiums was the sixth of 10 Laurel Park Winter Carnival day races, with six stake races totaling $550,000 in prize money.
The stakes score is the third victory of coach McLane Hendriks' young career. He also serves as a practice rider for most of his stable at the Fair Hill Training Center.
"He went to Pimlico and did a really good job there. I galloped it," Hendriks said. "He basically runs away with me in the morning. It's like driving a Lamborghini.
The Great Notion gelding overcame seven foes over a distance of seven furlongs, with Coleswood Farm Inc.'s Coastal Mission finishing second and Bird Mobberley LLC's Local Motive third.
The Merryman, son of Zeezee Zoomzoom is a half-brother to the Grade 3 winning mare Caravel, also bred by Merryman.
"I can't believe I have a mare like [Zeezee Zoomzoom]. What a lottery ticket," Merryman said. "She's just putting out perfect baby after perfect baby."
Merryman said she was worried the gelding might have lacked fitness, but her son assured her the 3-year-old was training as hard as ever.
"I'm just proud of my boys," Merryman said.
The extra heat
Luna Belle came off the pace to win the $100,000 Xtra Heat Stakes with Denis Araujo on board, picking up the second straight entry score for the 3-year-old filly.
The daughter of Great Notion and Heavenly Moon won the Maryland Juvenile Fillies Championship at Laurel in December.
The bay filly trained and partly owned by Hamilton Smith has defeated five opponents in the stakes for 3-year-old fillies running six furlongs.
Fred A. Greene Jr., Deborah Greene and Hamilton Smith rounded up favorites Beneath the Stars and Buff My Boots on the far turn, and won by six lengths in the seventh race on the card.
The Jennings
Hillwood Stable's Cordmaker kicked off his 7-year campaign with a win in the $75,000 Jennings, edging out late Hanalei's Houdini to earn his third straight victory.
Ridden by Victor Carrasco and trained by Rodney Jenkins, the gelded son of Double Horse of the Year Curlin passed leader Bustoff at the top of the stretch and recovered to win race three of the day by a head.
Cordmaker, bred by the late Robert T. Manfuso and Katy Voss, captured the Jennings for the second time, following a win in 2018.
Tanca's son avenged a loss to Jennings last year, part of a 10-race winless streak for the chestnut gelding.
The Jennings, a one-mile run for kids ages 4 and up in Maryland, was the first of six stakes races for the day.
The Geisha
Three Diamonds Farm's Kiss The Girl captured the $75,000 Geisha for trainer Michael Trombetta with Victor Carrasco aboard, after pulling away from six competitors on the home stretch.
The 5-year-old mare started her 2022 campaign in winning fashion after passing Paisley Singing and Artful Splatter.
Bred by Classic Thoroughbred XII, Kiss The Girl completed what she started in Geisha last year, where she finished second.
The Geisha, for fillies and Maryland-bred mares 4 years and older and running a mile, was Carrasco's second victory of the day.
ABOUT THE STRONACH GROUP AND 1/ST
The Stronach Group is a world-class technology, entertainment and real estate development company with thoroughbred horse racing and pari-mutuel betting at its heart. The brand of the company aimed at consumers 1/ST (pronounced "First") fuels the avant-garde vision of the Stronach Group 1/ST RACE, 1/ST CONTENT, 1/ST TECHNOLOGY, 1/ST EXPERIENCEand 1/ST PROPERTIES companies, while defending and guiding 1/ST HORSE CARE mission. 1/ST represents the Stronach Group's ongoing movement toward redefining thoroughbred horse racing and the ecosystem that drives it. 1/ST RACE runs best-in-class horse racing operations at the company's major racetracks and training centers, including: Santa Anita Park, Golden Gate Fields and San Luis Rey Downs (California); Gulfstream Park – home of the Pegasus World Cup Championship Invitational Series, Gulfstream Park West and Palm Meadows Thoroughbred Training Center (Florida); the Maryland Jockey Club at Laurel Park, Pimlico Race Course – home of the legendary Preakness Stakes, Rosecroft Raceway and Bowie Training Center (Maryland). 1/ST CONTENT is the newly formed operating group for all of 1/STMedia and content companies including: Monarch Content Management, Elite, GWS and XBTV. 1/ST TECHNOLOGY is the largest horse racing and gaming technology company offering world-class products through its AmTote, Xpressbet1/ST BETXB SELECT, XB NET, PariMAX and Betmix. 1/ST EXPERIENCE blends the worlds of sports, entertainment and hospitality through innovative content development, national and local venue management and hospitality, strategic partnerships, sponsorships and buying development. 1/ST PROPERTIES is responsible for developing the company's living, working and playing communities around its race venues, including: The Village at Gulfstream Park (Florida) and Paddock Pointe (Maryland). As an advocate for critical industry reforms and making meaningful investments in aftercare programs for retired horses and jockeys, 1/ST HORSE CARE represents the Stronach Group's commitment to achieving the highest level of care and safety standards for horses and riders in thoroughbred horse racing on and off the track. For more information, please email [email protected] and visit www.1st.com.
Maryland Jockey Club Press Release
Photo: Laurel Park