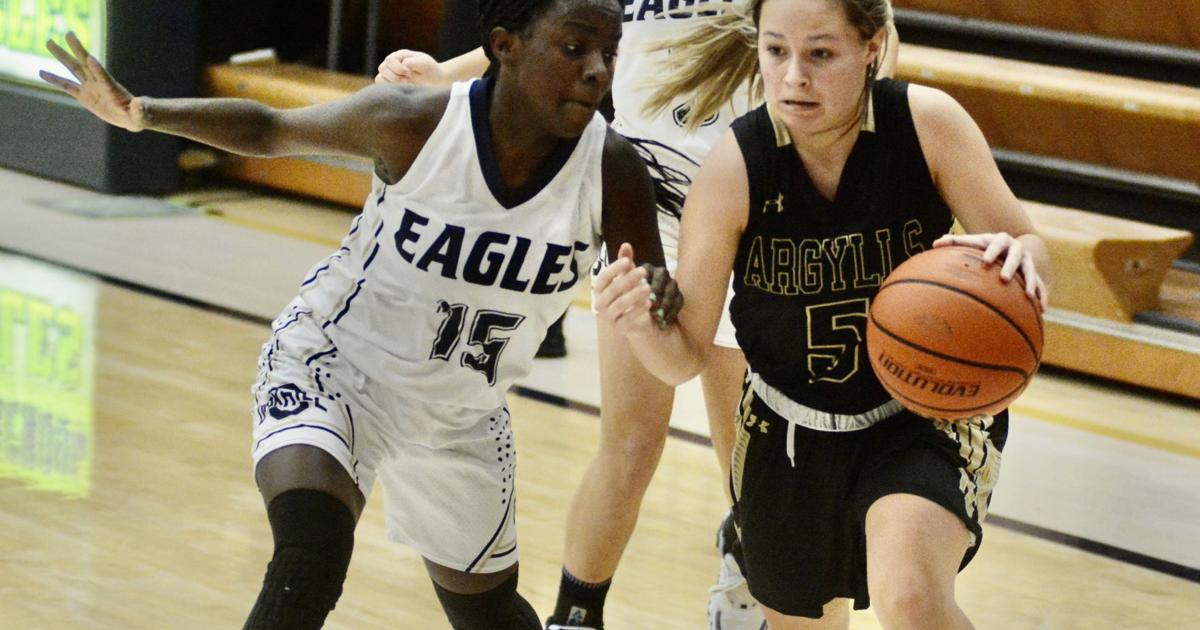 Weather wreaks havoc on high school hoops schedule | Sports
Ahhh. Even the best-laid plans have no power to fight Mother Nature, especially in the middle of Indiana winter.
Winter storm Landon proved to be an inconvenience for everyone, but it wreaked havoc with high school basketball week.
Many women's sections in the state have had to adapt on the fly and won't crown a champion until Tuesday. The three zone sections correspond to this bill.
Class 4A Section 7 in Marion and 3A Section 23 in Mississinewa will wrap up opening round games Friday night and play semifinal games Saturday night with a champion determined Tuesday at 7 p.m.
Eastbrook-hosted Class 2A Section 39 opted to reschedule their semi-final matches from Friday to Saturday night and will also play their championship on Tuesday.
It's been a light week for county men's teams to ensure the ladies are rightly in the weekend spotlight, but four of the six men's games have already been postponed or cancelled.
Bluffton at Eastbrook from Wednesday has been postponed and a catch-up date has yet to be announced. Oak Hill in Maconaquah starting Thursday has been canceled and will not be rescheduled. Marion was also due to travel to Muncie Central on Thursday, but the game has been moved to Tuesday February 22. The Madison-Grant boys were scheduled to visit Taylor on Saturday afternoon, but that game has been moved to Feb. 21.
Basketball was not the only school sport to be affected by the winter storm, the preliminary round of the swimming and diving section at Hamilton Southeastern, which includes both Marion and Oak Hill, was postponed until Friday at 5:30 p.m. .
Even with some delays, some games will continue, so here's a look at games involving Grant County teams or played at local high schools.
Daughters 4A sect. 7 to Marion Friday
Kokomo (12-6) vs. Harrison (14-7), 6 p.m.
Harrison and Kokomo first met on Nov. 12, and the Raiders' 55-40 win over the Wildkats was the difference in the NCC title race. Harrison went 9-0 in conference while Kokomo finished 8-1.
Junior Riley Flinn leads Harrison with 14.3 points, 7.1 rebounds and 4.5 steals per game. Sophomore Riley Whitlock (10.7 points, 5.6 rebounds) is the Raiders' only other double-digit scorer. Seniors Haley Thomas (9.7 points, 7 rebounds) and Olivia Lowry (8.4 points, 4.5 assists, 4.2 steals) as well as junior Campbell Moore (7.3 points, 6 rebounds) also score threats to Harrison.
Senior Chloe McClain leads Kokomo with 14.7 points per game while second Aijia Elliott scores 10.3 points and grabs nearly eight rebounds. Sophomore Lilly Hicks and senior Brooke Hughes each average about six points for the Wildcats.
Harrison led the NCC with 55.2 points per game while allowing 40.8. Kokomo is scoring 47.6 points per game and has an NCC-leading defensive average of 36.5 points.
Northwestern (16-4) vs. McCutcheon (14-9), 7:30 p.m.
Northwestern played only one other team in Division 7 during the regular season and earned a 60-40 home win over Logansport on Jan. 8. The Tigers were scheduled to face Harrison on January 13, but the game was called off.
Northwestern is led by McKenna Layden. The 6-1 has already verbally committed to Purdue and is averaging nearly 22 points, 6.2 rebounds, 4.1 steals and 3.7 assists for the Tigers. She has made 54 3-point shots and is shooting 43% from long range.
Rookie Anna Bishir (8.1 points) and junior Ashley Newell (6.1) are Northwestern's top secondary scorers.
McCutcheon finished third in the NCC behind a trio of double-digit scorers. Senior Teresa Maggio leads the Mavericks with 23.2 points per game. She also dished out more than five assists, made nearly five steals, and had more than four rebounds per game.
Senior Marya Farrell (12.5 points) and junior Caitlyn Miller (10.3 points, 5.6 rebounds) are also top threat scorers for McCutcheon.
Saturday
Logansport (7-18) vs. Lafayette Jeff (4-19), 5 p.m.
Senior Sophie Wenrick scored 12 points and senior Amaya Milian added eight in Jeff's 37-28 win over Marion on Tuesday in the section opener.
Junior Gabby Richie is Logansport's only double-digit scorer with 15.2 points per game. She also leads the team in rebounds (4.5), steals (2.5) and assists (2). Sophomore Lydia Goad (9.2 points) and junior Kendra Sutton (7.3 points) give the Berries secondary point production.
The Berries picked up a victory at Lafayette Jeff, 53-47, on December 17.
Winner Kokomo/Harrison vs. Winner Northwestern/McCutcheon, 7 p.m.
3A section. 23 in Mississinewa Friday
Bellmont (13-8) vs. Mississinewa (7-15), 6 p.m.
The Squaws and Indians butted heads Nov. 29 with Bellmont leading, 68-32 at Decatur.
Bellmont is averaging just over 46 points per game and giving up 35 points and ended a four-game losing streak with a 38-27 win over Angola on Wednesday.
Individual Bellmont statistics are not available.
Mia Catey had a strong senior season and leads Ole Miss with 14.7 points, 7.4 rebounds, 2.9 steals and 2.1 assists. Junior Abby Smith (9 points) and rookie Jaci Crick (8.6 points) were solid secondary options for the Indians. Smith made 10 3-pointers in a win over Elwood on Jan. 22.
Mississinewa averages 46 points per game and gives up just over 54.
Norwell (17-4) vs. Fort Wayne Luers (11-10), 7:30 p.m.
Norwell outscored opponents by 54.2 to 38.6 on average and won six straight games heading into the section.
Norwell won 62-39 at Luers on Nov. 17 in the Knights' first battle.
Individual Norwell statistics are not available.
Luers is led by senior Anna Parent, who is averaging 13.5 points, 8.1 rebounds, 3.6 assists and two steals. Sophomore Addie Shank (11 points, 11.4 rebounds) along with freshmen Reese Rhodehamel (7.3 points, 5.3 rebounds) and Maggie Parent (5.1 points, 4.4 rebounds) give Luers a young supporting cast.
Luers are averaging 41.2 points and giving up 42.6 points this season.
Saturday
Legacy (11-10) vs. Oak Hill (8-15), 5 p.m.
Senior Treniti Thurman scored 14 points and grabbed five rebounds while senior Joy McDivitt added 11 points, five assists, four rebounds and three steals to lead Oak Hill over Eastern, 48-32 in the Section 23 opener. Tuesday and in the semi-finals. Sophomore Taylor Holloway scored nine points for the Eagles.
Heritage is averaging 42.5 points and has allowed nearly 47 points per game this season.
The Patriots are led by senior Ella Bickel (13.5 points, 6.1 rebounds), junior Claire Bickel (9.9 points, 4.4 rebounds, 2.5 assists, 2 steals), junior Kendall Zelt (5.7 points) as well as seniors Abby Zelt (4.9 points, 3.7 rebounds) and Shelby Schane (4.5 points, 3.4 rebounds, 2.2 assists).
Winner Bellmont/Mississinewa vs. winner Norwell/Luers, 7 p.m.
2A sect. 39 at Eastbrook on Saturday
Madison-Grant (12-10) at Winchester (21-1), 6 p.m.
The Argylls face a huge challenge against the No. 2 Golden Falcons.
MG is scoring 40.6 points per game and allowing 37.4. Senior Azmae Turner leads the Argylls with 12.4 points per game. She scored a career-high 33 points on Jan. 20 against Tri. Junior Daya Greene is averaging 11.6 points per game and second Maddy Moore is averaging nine for MG.
Winchester is the top-scoring team in the state across all classes, averaging 71.6 points per game. The Falcons are the only Indiana team to score more than 70 points per game. Winchester is allowing just 38 points per game.
Junior Caitlyn Campbell scored 17 points and led a Falcons trio by double digits in their 62-41 win over No. 3 Eastbrook on Tuesday.
Blackford (16-4) v Tipton (19-4), 7:30 p.m.
Blackford are averaging nearly 60 points per game while allowing just over 44 and enjoyed a 10-game winning streak by Eastbrook in the final game of the regular season.
Juniors Olivia Leas (16 points, 5.9 rebounds, 3.1 steals) and Liv Waters (13.2 points, 4.6 rebounds, 4.2 assists, 3.2 steals) have both been starters for three years and the leaders of Blackford. Junior Brianna Stroble (8.5 points) and second Sydnee Morris (8.2 points, 5.1 rebounds) offer secondary scoring options.
No. 5 Tipton took a step towards defending his Section 39 championship with a 54-35 victory over Taylor on Tuesday.
Tipton's 6-3 junior Ashlee Schram (15 points, 11 rebounds) and senior guard Ella Wolfe (14 points, 4 rebounds, 3.4 steals and 2.5 assists) each scored their 1,000th career point , about 90 seconds apart, against Taylor. . Seniors Abigail Parker (9.1 points, 3.4 rebounds, 1.4 assists, 2 steals) and Olivia Spidel (7 points) are also capable secondary options for Tipton.
boys saturday
Logansport (2-13) at Oak Hill (12-3), 1:30 p.m.
The Golden Eagles will ride a six-game winning streak in the contest with the Berries and have won eight of their last nine.
Junior Landon Biegel is Grant County's leading scorer with 21.3 points per game and also leads Oak Hill with 7.7 rebounds. The Eagles are getting 14.3 points per game from junior Caleb Kroll while junior Matthew Strange is scoring nearly seven points and four assists per game.
Oak Hill is scoring nearly 55 points per game and giving up less than 47.
Meanwhile, the Berries are scoring 47.6 points per game and giving up more than 64.
Seniors Noah Lange (12.4 points) and Caleb Crook (9.5 points) lead Logansport.
Delta (8-10) at Mississinewa (6-10), 12:30 p.m.
Delta arrives in Gas City off a three-game losing streak, which followed four straight wins, including the Eagles winning the Delaware County title. Delta is average and allowing just over 51 points per game.
Seniors Neil Marshall (16.1 points) and Jackson Wors (12.8) lead Delta in scoring while sophomores D'Amare Hood (8.2) and Jayden Furney (6.6) provide complementary points .
The Indians are moving in the opposite direction of Delta with wins in their last two outings and four of the last five. Ole Miss scores nearly 53 points per game and gives up just over 54.
Senior Hayden Ulerick (16.9 points, 5.6 rebounds, 3.6 assists) carries the Ole Miss offense while seniors Lucas Asbury (6.7 points), Dakota Ancil (6.6 points, 6.2 rebounds) and Ty Newsom (6.2 points) along with second Gannon Smith (5.9 points) give the Indians a balanced secondary offense.